The Siebenhaar Company was founded by Dipl.-Ing. Ted Siebenhaar back in 1965. Mr. Siebenhaar was a pioneer in integrating planetary gears in winches.
Siebenhaar soon became a leader in the field of winches, hoist and slew drive technologies, However, the market development failed to appear till 1986.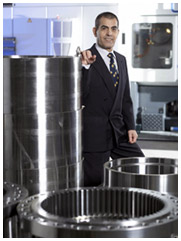 Dr. Jamshid Yektai
In 1986, Siebenhaar was sold to the Krupp Corporation. Three years later, Krupp Corporation sold Siebenhaar to Dr. Jamshid Yektai. The new Siebenhaar Antriebstechnik company history starts in the beginning of 1990 as an independent family business with 30 employees and a turnover of DM 5 million per year.
From 2008 until today, Siebenhaar has expanded its leading position. The largest, most effective, compact winches, free fall winches, swingers and slew drives are now manufactured by the Siebenhaar Company. Permanent innovative product development and high investments in production technology will continue to be the key elements of the Siebenhaar Antriebstechnik corporate strategy. In 2010, the number of employees rose to 200. Compared with 1990, this is a seven-fold figure. During the same period, sales multiplied by more than fifteen times. Innovation, flexibility, customer proximity and high quality are the hallmarks of our company. Being particularly strong in project business, we have been able to expand our market share especially in the offshore and mining sectors. Meanwhile, products by Siebenhaar Antriebstechnik can now be found in various applications all over the world.
A large proportion of our revenue is invested in research and development. Thanks to regular investments, especially in our ultra modern machinery, we continuously enhance our competitiveness and always remain on the cutting edge of technology. This is how we create the conditions for our significant contribution to the success of our customers.
In 2015, the Siebenhaar Antriebstechnik company is celebrating its 50th anniversary and will continue to be your reliable partner for high quality products and solutions in the future.
Within the 18 years between 1990 and 2008, the Siebenhaar Drive Technologies Company has become a leading company in the areas of
winches
free fall winches
Slew drives and swing gears
wheel gear, also switchable
special gears on request